Ojai is situated just northwest of bustling Los Angeles, offering the perfect small-town feel of boutique shops and cozy restaurants. Clear views from the valley of Ventura, the Topatopa Mountains, and the Los Padres National Forest ensure Ojai California real estate is the greenest option on the market.


Considering the rising demand and the homeowners flocking to Ojai, contacting one of the local Ojai real estate agents is the best way to ensure you and your family don't miss out on the perfect life in the valley. It's the first step towards making the right move for you.


Not only are the mountains a desirable location for spending time outdoors, but
Ojai
, in particular, offers a variety of exercise options for varying skill levels. With all of these different paths and trails comes a wide variety of outdoor activities ranging from horseback riding and dirt biking to proper hiking and rock climbing.
Beginner trails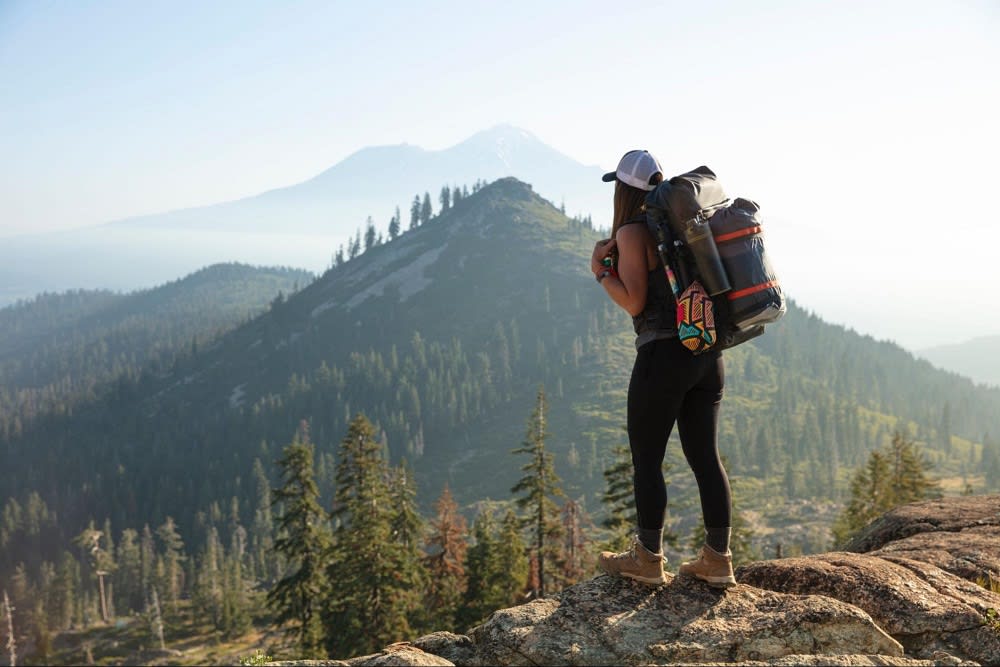 If climbing tall heights and squeezing through tight places doesn't sound appealing, Ojai's natural landscape provides the perfect blissful beginner trails with smooth terrain and plenty of shade. Hiking
Rose Valley Falls
ensures 30 minutes of adequately paced fun and abundant scenic views. This 1.1-mile hike is easily accessible for those looking to spend time in the great outdoors and take in the beauty that is the Topatopa mountains. A low-stakes hike with a high reward is the ideal kind of excursion for a Sunday morning in the summer.
Another excellent option for beginner hikers is the
Wills Canyon Trail
. This hike offers wide open spaces and extensive paths fit for bikers, runners, and strollers. This trail takes up to two hours to complete but does not lack natural rewards: vivacious flowers and unbeatable mountain views remain visible throughout the hike.
Finally, the most regarded and favorite hike esteemed in Ojai California real estate is the
Ojai Meadows Preserve
. The trail offers some of the valley's best views and is perfect for all levels of hikers. Grabbing some fresh fruit at the
Ojai farmers market
and some sparkling water for a lovely day in the sun filled with views of wildflowers and the mountains is the kind of rejuvenating experience you deserve after a long week of work.
Some of Ojai's best trails and preserves include plenty of shade, seating, and access to small creeks and ravines. On a less strenuous journey, one can easily enjoy the outside world and indulge in several hours of shade while also exploring the true beauty of the Ojai valley.


Due to Ojai being such a central location for exploring the outdoors, it offers many beginner-level hikes for a relaxing day in the beautiful valley.
Intermediate hikes
Feeling more adventurous? Ojai provides beginner hikers the opportunity to get their boots dirty, and the valley offers more challenging outdoor excursions for those seeking it. In the Los Padres National Forest,
Gridley Trail
stretches for 12.3 miles with an out-and-back route. Because of its more strenuous length, Gridley Trail is a more private experience to work out and take in the views!
And due to its lengthy terrain, this path is perfect for mountain biking and trekking! This trail takes about six and a half hours to complete the hike but does not lack breathtaking views.


Along with the Gridley Trail, head north on Highway 33 for about five miles and spend a day in
Matilija Falls
. This beautiful hike includes several waterfalls and varying wildflowers such as lupines, California hummingbird sages, and purple owl's-clover! Unique rock formations and vast trails remind hikers to put down their phones and be fully present on this glorious trail.
Another intermediate hike that provides hikers a fuller view and experience of the Ojai valley river is the
Oso Ridge Trail
. The Oso Ridge Trail is a 4.6-mile loop and a generally challenging hike. With beautiful river views and river access, this hike remains highly popular among bikers, backpackers, and hikers in the Ojai area.
Based on the length of the trail, type of terrain, and intense physical demand, these hikes will undoubtedly satisfy an active hiker's need to break a sweat or two!
Strenuous excursions
Finally, if you're well versed in the above trails,
Pratt Trail
is the perfect opportunity to try more challenging hikes. Pratt Trail is a 9.6-mile hike with an out and back access point. Because of its terrain, this trail is perfect for hiking, backpacking, running, and biking. Offering different views from other trails, Pratt enables you to explore Ojai differently!
However, if Pratt trail is not enough hard work and sweat, try out
Sisar Canyon Trail
for a day hike. Halfway between Ojai and Santa Paula lies one of the most beautiful trails in the Los Padres National Forest: Sisar Canyon. The Sisar Canyon trail remains deep in the Topatopa Mountains, stretching for a 10.5-mile round trip hike. With views of Sisar Creek offering benches for relief from the exercise, hikers can enjoy the landscape pleasantly while also resting from the intense workout. Perfect on both sunny and cloudy rays, the canyon remains a moderately intense workout with the satisfaction of beautiful views.
Having it all
If hiking and exploring the outdoors on foot, or a bike, is your dream come true, become well versed in the Ojai real estate market by reaching out to one of the Ojai real estate agents in town. Several luxury neighborhoods, including City Center, Camp Bartlett, Sulphur Springs, and Arbolada, are located near these desirable hiking paths. Not only are these neighborhoods regarded for top private schooling, dining, and shopping, the pivotal location between both the mountains and the ocean contributes to the one-of-a-kind Ojai lifestyle: having it all.


In Ojai, the picturesque mountain landscape is visible anytime in the valley. You also have close access to the sea, dozens of hiking trails, and unbeatable outdoor opportunities. Ojai provides those seeking a connection with the natural environment with anything and everything they can desire.